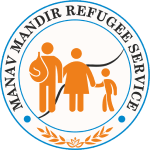 Manav Mandir Refugee Service
Majnu Ka Tila' and 'Signature Bridge' camps in Delhi are among the abundant settlements in India where Pakistani Hindu Refugees are residing in terrible conditions and are deprived of even basic amenities. It consists of numerous families who had fled Pakistan to seek refuge in India. Addressing the needs of these distressed refugees, Manav Mandir Mission Trust has opened its centres at both these camps and has started carrying out a range of programmes such as Remedial Classes for the children, Vocational Training Programmes for the women & youth, Livelihood programmes for the adults etc. to facilitate these refugees in realising and achieving their potential so that they could stand on par with us and could live a life with dignity and respect.
Service in Flood Affected Refugee Camps
Hindu refugees from Pakistan are dependent on the Manav Mandir Mission Trust. The organization has also started new projects in flood-affected areas and has also taken responsibility for approximately 250 families (around 900 members) who have come from Pakistan. These families reside in two refugee camps in Delhi, which are now completely submerged. In this crisis, Manav Mandir Mission distributing all ration materials among displaced refugees from Pakistan and is now forced to face the Yamuna flood tragedy.
Manav Mandir Mission Trust is carrying out these classes for disadvantaged children refugees studying in government schools and for out of the school children refugees as well for their educational mainstreaming and development at its both centres. These classes assist in filling the gaps in school education and enable the children to be regular in school and prevent them from dropping out. These classes make children understand the subjects better and also enable them to handle class assignments properly. Moreover, these classes give out-of-school children the opportunity to take informal classes as a bridge to get into the formal school system. The out-of-school children are assisted by Manav Mandir in getting admission to schools as per their age and competencies.
Vocational Training Programme for Women Refugees
To empower Pakistani Hindu Women Refugees residing in the above-mentioned camps, Manav Mandir Mission Trust is imparting Tailoring, Stitching & Embroidery skills under its 'Vocational Training Programme that will minimize their dependency on their male counterparts and will enable them to contribute to their family income. These women are learning tailoring, stitching & embroidery and are provided with sewing machines and other required materials such as clothes etc. on a regular basis for their smooth learning/training process. These women have been able to manufacture well-stitched vibrant carry bags and are happy to learn a profit-making skill. We are planning to expand it further to reach and assist more women refugees.
Vocational Training Programme for Youth Refugees
Responding to the needs and demands of the youth refugees with no means of employment available to them and facilitating them in making themselves self-reliant, Manav Mandir Mission Trust has started providing different forms of training to these refugees at the 'Majnu ka Tila' settlement. A total of four youths were trained in Driving and have been successful in getting their learner's licenses. The youths have also been trained in Plumbing & Fitting.
Vocational Training Programme for Adult Refugees
With the objective of providing opportunities and employable resources for a better economic future, Manav Mandir Mission Trust has been able to provide livelihood to some refugees in Majnu Ka Tila camp and a total of 61 refugees in Signature Bridge camp. With this count, 90% of the dwellers of Signature Bridge camp have been covered under ours Livelihood Programme. The provided livelihood includes redhis and various other resources which are used by these refugees for selling kachoris, vegetables, clothes, crockeries etc. stationed at one particular place or ferrying around the streets of neighbouring areas. These livelihoods will assist these refugees to realise their potential, become independent, earn a living and lead a life with dignity. Most significantly, it will work as a sustainable pathway out of poverty, improve their standard of living and will give them the confidence to merge with mainstream society.
Multiple relief drives are being organized by Manav Mandir on a timely basis and in times of crisis/disasters for the Pakistani Hindu refugees. Essentials including stationeries for the children, sanitary pads and other female hygiene-related necessities for the women, ration kits and clothes and utensils for the family constitute these relief drives. Recently, Manav Mandir Mission Trust was able to install 10 handpumps responding to the water crisis at Signature Bridge camp.